We hope to keep building content and contributors from the #FOAMed movement in Scandinavia.
If you want to get involved, please give us a shout.
Mads Astvad (@mr_astvad)
Anaesthesiologist in the Scandinavian sense (PHARM, ER, OR, ICU) with an interest in wee patients. Educationalist.
Sandra Viggers (@StarSkaterDk)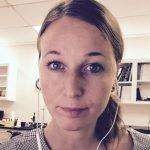 Star skater, resus geek, simulation expert and #meded choreographer. Coming to a SIM room near you. With a shark. Also, 100% MD.